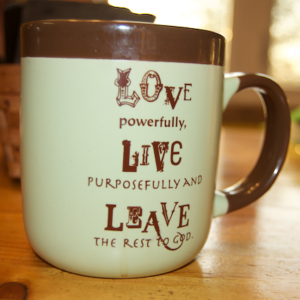 This is a favorite coffee mug. One that is in the regular rotation. One I have been using for several years. One that has not blended into life and goes unseen. I usually find myself reading the words and thinking….
Love Powerfully
Love powerfully it says. As I lean into those words, love powerfully, I ask "What does that mean?" more importantly "What does it mean to me."
Paul Simon's lyric from Slip Slidin' Away "I know a man he came from my home town. He wore his passion for his woman like a thorny crown. He said Delores I live in fear my love for you's so overpowering I'm afraid that I will disappear." I always thought the gist of those lines was vanity and self aggrandizement. To be seen to love greatly was more important that seeing and loving her.
Powerful love (for me) is wanting the best for your person. Your person being a significant other, a child, a parent, a sibling or a friend. Wanting the best for them openly. To truly support another's growth and development.
Too often we believe we are loving with strength when we point out what our person could or should do. When we caution and warn them because we feel alarmed at the exciting new thing they are into. There seems to be some confusion between smothering love and powerful love.
Loving powerfully is an internal reckoning as much as an outward display. Are we willing to let go enough to give our person space to grow and experience? Can we have faith in their process? Do we believe in their capacity and abilities at all times? It is damn difficult to hold out that kind of love.
Our hearts are so tied to those we hold close. Their pain is our pain. Their struggles can take us to our knees. So often it is not about them but about ourselves. What we can handle not what they can deal with.
It takes courage and strength to stand with and for our loves. To let go of our own fears and open our own hearts. To be vulnerable to heart ache and heart break. It is scary. It is also potent. When we can enthusiastically celebrate each other and sit in the gut wrenching dark together then we are truly connected. When full emotional expression is shared we confirm a love that is resilient and strong. We feel it in deep in our center and communicate it to our people. That is the power of love. That is loving powerfully.
Live Purposefully
On purpose. With purpose. Intentionally.
My earliest memory of On Purpose is a children's squabble. The aggrieved child yelling "You did that on purpose!" i.e. you meant to dump the the flower pot on my head. Which if it was something turned upside down over another's head we can be sure it was on purpose, deliberate, calculated. Purposeful is also determined, intense, resolute. None of which, to me, describe great ways to live one's life. Okay, I'll give you determined as getting back up after each set back. Staying the course. It is a workable attribute. Too much intensity scorches those around you. Stress rides shotgun to intense. Resolute brings to mind stiff, unyielding. No flexibility to roll with the punches no room to compromise or learn and grow.
So what is in the plaque perfect words Live Purposefully? How do I translate that into something real? This coffee mug is supposed to be inspiring. I bought it because it spoke to me. So what was it that touched deep inside?
The opposite of purposeful is random, aimless, reactionary. Without direction we might wander in circles indefinitely. Fulfillment, satisfaction, and significance come from aspiring; to do something we have not done, to be who we are called to be, and to claim our highest desires. It takes planning and acting with deliberation. When we catch a glimpse of what is possible for our lives and choose to move toward that vision we elevate our existence.
I think that is what resonates. The belief that life can be richer when I reach for something more. When I choose On Purpose. I accept the challenges and the pit falls. I embrace the lessons. I am willing to expand my understanding of myself and the world purposefully. That ignites my spirit.
Leave the Rest to God
I have a secret to tell you…….. I am a little bit of a control freak. It's shocking I know. Some of you have confided to me that you also have some tiny issues with letting go.
I understand the basic concept of Leaving the Rest to God in an intellectual way. I believe and I have faith in a higher power who knows me. But, I am thoroughly entrenched it the Pray to God but Row toward Shore. i.e. Do everything in my power to sway the odds in my favor. I.e. Don't expect miracles work your ass off.
We seemingly inherently fear the unknown. And everything beyond our control is unknown. Most of what we do control also has unknown outcomes but that's beside the point. Fear leads to confabulations and catastrophizing which show up in the void of the unknown. Then I (we) start trying to control as much as I can. Deeming I've done what I could do and letting go. Choosing to lean on it-will-all-work-out is so very damn difficult.
One of the processes I take clients through aims to attach them to self belief. Looking at what they have survived and overcome in the past they claim the skills acquired and verify evidence of their resiliency. I have them look at the support they currently are surrounded by. We confirm that even if their worst fears are realized they will again survive and even flourish.
If believing in a deity, higher power, or universe that has my back, that is right beside me, is a stretch (which sometimes it is). Then believing in the people around me (which I do) and trusting in the skills and knowledge I have acquired (am acquiring) is enough to let go. And if (when) I let go I am open to what comes. Without stress or fear. With belief it will be okay. And then, somehow, maybe, I've gotten to Leave the Rest to God.
For Your Best Possible Self
Coach Christine