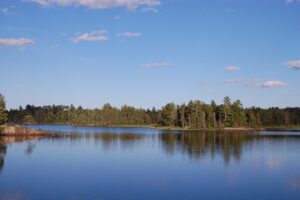 My sister was in town. During dinner one evening there were a few wanders down memory lane. In particular trips to northern Minnesota's Boundary Waters Canoe Area Wilderness. For a good span of years it was an annual family vacation. We'd backpack and canoe into the pristine country of lakes, trees, and wildlife.
My siblings and I learned to canoe when living in St. Charles, Illinois. There were canoe and kayak races sometimes. It was thrilling to see fit men and women moving swiftly along, portaging around dams with speed and elegance. I don't know who decided we should all learn how to paddle, but, it was an excellent choice. Along with our parents we three kids were instructed on C stroke and J stroke in the Fox River. I have two distinct memories of those weeks. One, crossing the river and going up a small tributary paddling with my mother. Second, adventuring up steam with my brother on a windy day. The wind was so strong. It was easy going against the current. We were kings. How fun knowing the current would easily bring us back home. When we finally choose to turn around sitting lightly on top of the water we caught enough wind to keep us from making headway. Paddle as hard as we could made little difference. Finally we pulled our heavy aluminum canoe out of the water and dragged it back. I clearly see the golf course, golfers staring at the 9 and 12 year old dragging their canoe over the perfect grass.
On my maiden voyage into BWCAW my boyfriend came along. My sister also brought her boyfriend. My father and brother, having been previously, were the group leaders. My boyfriend had never canoed before. He was a fisherman and ran a flat bottom john boat. The evening before going into the wild we took our rented canoe out on a small lake. Canoeing is a team effort. The person in the bow is primarily the motor, the one in the stern steers the canoe. I took the back since I had canoe experience.
Love is an interesting thing. With a quick C stroke J stroke tutorial we were off. Or rather we were beginning. My lover had the idea to take charge. Show what he could do. I on the other hand sat in the steering seat. I honestly do not remember what verbal communication there was. I know that I usually did not speak up, especially if irritated. I was in rapidly elevating irritation. A team we were not. At some point I snapped and whipped the canoe around opposite to what my lover was trying to achieve. Then again. Which possibly broke the tension at both ends of the boat and rapid verbal exchange ensued. You paddle, I steer! To his credit he heard me. Later he took the canoe out alone to work with maneuvering. That night with a little more practice we became a team.
Going into a wilderness of pines, birch and water. Of rocks, islands and portages. Maps and compasses are essential. (at least they were in the 1980s) After several times of not guiding us toward the "right" point. I learned to stand my ground, ask clarifying questions to make sure we were in agreement as to which notch in the tree line we were aiming for. Occasionally not finding a portage and discovering a few times we were not in the section of a lake we thought we were. We'd use our own compass and map to decide the course and then verify our findings together. Moving on only after we agreed. He after wearing thin paddling too long on one side or the other relaxed into his own rhythm. A rhythm that was easy for me to match. Over the years this boyfriend became my fiancé and then my husband.
One year our group entered BWCAW on a motorized lake and took the option to have our gear stacked in motorboats and the canoes towed. Howard and I choose to paddle across. Our arrow straight passage gained approving remarks from the motored boat's guide. A different trip coming out after a week of wilderness camping there were strong head winds. In the wind I didn't have the body strength to keep the Wenonah on point so traded places with my engine guy. The final lake was large, open, and had a three foot chop. I had been the proud owner of an 18 foot kevlar Wenonah for several years by then. Across the expansive lake there were tiny islands made of large rocks sticking out of the water. We'd paddle to the shelter of the rocks. Rest, catch our breath and the go for the next leg. In that fashion we crossed Snowbank Lake in three stretches. At the first "island" it took three attempts to get going. Each time the nose of the canoe would get past the rocks the wind caught and spun us around. It was imperative to hit the waves straight on. If they'd catch us off sides we could be rolled. Kneeling in the front of the canoe, driving my paddle deep for maximum leverage I gave all I had. Howard is a blade smith by trade with powerful arms. In the stern it took every ounce of strength to keep us on tack. Reaching the landing we pulled our craft onto solid ground and collapsed. Wrung out and euphoric. We made it!
It is interesting to look back. 2021 marks 37 years together. We have been a business team as a dual entrepreneurial household. Our parenting is team work. Just as there are roles and duties in a canoe so to are there roles and duties in the rest of life. We have learned to navigate divisions of labor, areas of expertise, and appreciating each other's efforts. We have gotten off course. Found ourselves in places we did not intend, figured it out, gotten back on track. We now know how, and do, check in regularly to see if our compasses are pointing in the same direction. There have been a fair number of rough waters over the years too. Moments when we could have thrown down the paddle and let the waves take it. Times when extra effort to speak our truth, strength to stay in the conversation, risk to be vulnerable were required to get us to solid ground.
We do not have this team relationship all figured out. But, I know with certainty we are still in the canoe together. We have each other's back. We were meant to last.
For Your Best Possible Self,
Coach Christine Clark