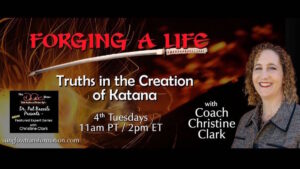 There are truths for us in the making of Japanese style swords. Also known as samurai swords. Also known as katana. The final destination, that vision and goal from the start is a mesmerizing intricate work of art that is also a highly evolved weapon. A confluence of beauty and function that is rare. The steps to create the sword are many. Skills required are also varied and specific. The sword gets handed off between several people. Each craftsman having definitive competence in his area. The building of a katana is also a long process. As much as several years before the sword is fully polished and mounted. This is because the processes are long and each artist has a backlog. There is no industrial automation for true samurai swords.
The fact that the processes are long lends truth to the analogy. Our culture idolizes fast & easy and quick success. Break throughs and foundational shifts can happen in a matter of minutes with coaching. However to embody the changes, to live your new perspective takes diligence over time. The significant life is a journey. Just as the creation of katana is a process so is becoming our best possible selves. The encouraging truth from katana creation is the visual progress. We get to clearly see the changes as they occur. That the smith, polisher, saya (scabbard) maker, are moving forward is handily recognizable. With our human experience, needle point moves are sometimes, a lot of the time, hidden. We know intellectually we are in action but often we don't feel like we are accomplishing anything. Even though we are.
I have worked with enough people building awareness of their gifts to believe our human tendency of not seeing progress is universal. We will wrestle with inadequacy until we have sunlight moments. Those beautiful awarenesses when we acknowledge our aptitude. When we feel "I've got this!" The clouds part. The sunlight pours in. We recognize how far we have come. We notice we are not triggered by the news, her action, his comment. We see consistency in cash flow, appointments, product sales, likes and realize "I created that." The sunlight moment happens when opportunity knocks and we open the door with excitement and confidence. You are able to self assess. Trust your experience, knowledge, and ability.
I had one of those sunlight moments this past week. Transformation Talk Radio called to ask if I would run the scheduled show solo. My co-host would not be able to join me. My immediate verbal response "Yes, of course." As the conversation covered a few logistics the adrenaline pump kicked on. An old part of me suggested I was stressed and anxious. But no, this energy was excitement. The clouds were pulling back allowing me to lean into who I am. How I have forged my life.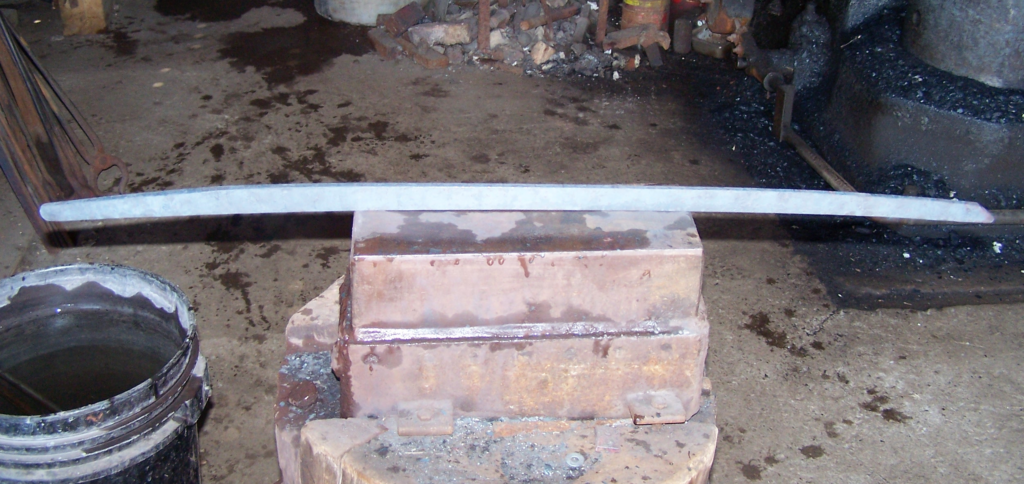 Initial Heat: The cylindrical billet is drawn out to a long slender flat. The forces at work are preparing the steel for what is to come. If the steel was to be other than a katana the initial shape would also be other. As a direct sales consultant I constantly pushed past my comfort zone. Cold contact handing out business cards, setting appointments with people I didn't know, traveling to all areas of the city and across the state, presenting to groups of women, training my team. These actions shaped my steel preparing for the next. When I stepped into coaching I already had the acumen to build a business grassroots up.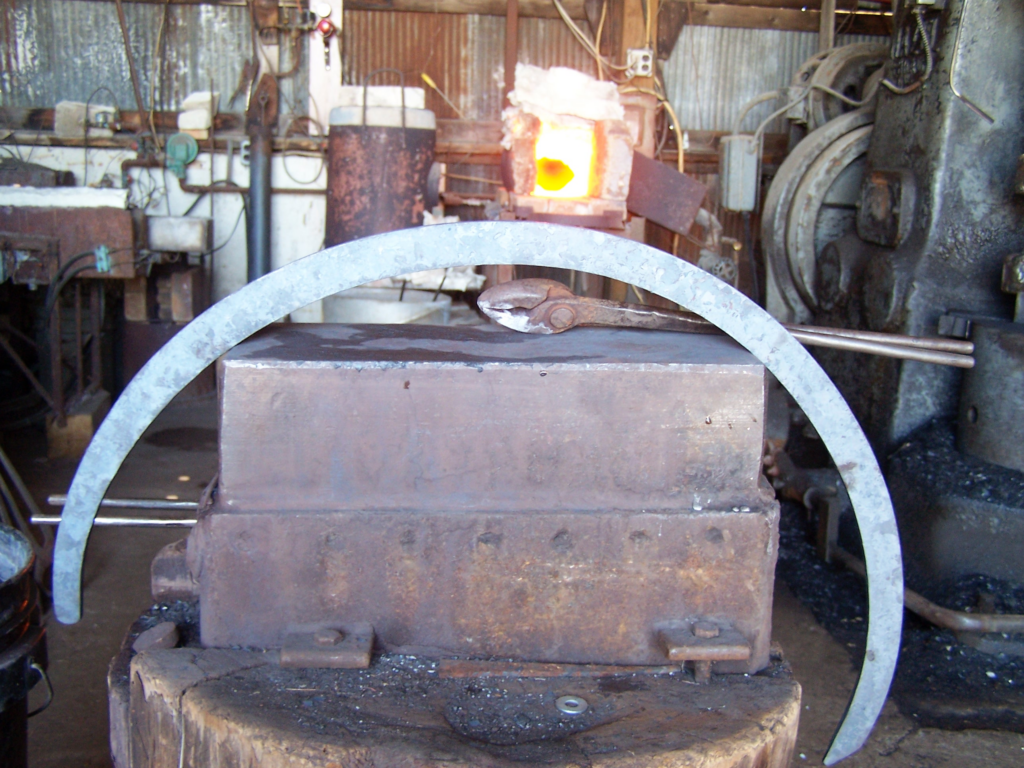 Pre-curve: The slender flat is hammered into a curve setting the path to become a sword. The inside of the curve is the cutting edge. Each hammer blow bevels the sides, forms an edge and straightens the blade. It's the training, formal education, strategic planning. Stepping into my first life coaching certification was a full immersion training. The strategies were intellectual. The learning was embodied emotion. We practiced coaching and being coached. In the process I addressed my deep fears and disempowering beliefs. I shook loose limiting notions and fell deeply in love with transformational life coaching. My path was set.
Grinding Clean: Grinding takes down the hammer tracks, smooths, and further shapes the blade. It is the releasing of what does not serve us. It's creating flow, consistency, astuteness through repetition.
Forging A Life: Truths in Creation of Katana was birthed in January 2018. Since inception the concepts and analogies have grown and deepened. I have spoken to, trained with, written about the content. I have gleaned conformation of relevance from coaching my clients, attending more coach certifications and personal experience. At this point I trust the work. I believe in the metaphor. I've released the idea of perfection, and now, understand this body of work will continue to expand. I think that is the most freeing for me. No matter what comes out during the radio show it will be okay. I will either discover a new way of explaining a point or solidify connecting to my audience. Or something else. In any case the foundation is solid and it will be okay.
Thermal Cycling – Immersing the sword into a baby volcano. A tube filled with molten salt. The katana is repeatedly immersed and cooled. The process changes the internal microstructure of the steel. This is my favorite step. The molecules shift from face centered (dots on the sides of dice) to body centered (light cube with a bulb in it's middle). The molecular structure also refines going from chunky rocks to super fine sand. Thermal cycling imbues the blade with resilience to flex and not bend or break. It also improves it's ability to hold a keen edge for extended use. Our greatest transformations usually come from adversity, pain, loss, life transitions, and being immersed in work. 2020 was a phenomenal year for transformation. In addition I did a total website rebuild, began a podcast, agreed to coach again for Motivating the Masses and stepped onto the Transformation Talk Radio campus. I have felt very much like I've been immersed in the transformative salt pot. My reward? I've stayed sharp. I've gained resilience. I am centered. I trust myself.
I am ready for the radio show. It is a gift to have that door open. It is amazing to be provided a catalyst to reflect and take stock. My desire for each of you is to pause and take stock. Look back on what prepared you to achieve. How have you set yourself up to succeed? What have you released and what repetition has smoothed you to flourish? Acknowledge your immersions. Claim your strength, resilience, and keen ability.
For Your Best Possible Self
Coach Christine